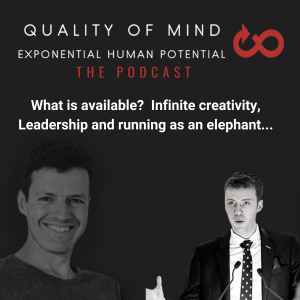 Sunday May 07, 2023
What is available? Infinite creativity, leadership and running as an elephant
This podcast series explores the 'before psychology' game-changing understanding of the human mind that can exponentially increase the performance, resourcefulness and well-being for any individual or organisation.
This episode is a conversation with Craig Wilmann, a business leader and content creator, who experienced a transformative shift in his understanding of the mind. He shares his journey and the benefits he now enjoys in all aspects of work and life. 
The discussion covers:
- The difference this understanding can make for Leadership
- How Craig first experience non duality during a burnout episode 
- What is it that we are pointing to?  How does it feel?  What is behind the personal mind?
- The simple yet profound nature of just being in life and sensing it, without the narrative of being a self.
- The inspiration, creativity and confidence to create and publish a short story every week for a year! 
-  The relevance for the workplace; contrived versus emergent leadership
- How this understanding helps any area of life and work, including running marathons dress as an elephant😁
Curious - want to know more?
- 
Comments
(0)
To leave or reply to comments, please download free Podbean or