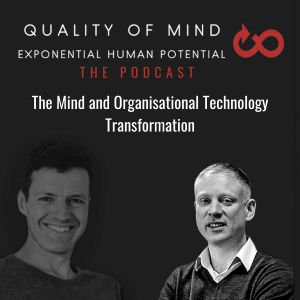 Monday Jun 27, 2022
What has the Mind got to do with Organisational Technology Transformation?
This podcast series explores a game-changing understanding of the human mind 'before psychology' that can exponentially increase the performance, resourcefulness and well-being for any individual or organisation.
This episode is a conversation with Nigel Wilson -a board director, strategist and leader in technology change. As well as his expertise and experience in technology consultancy, Nigel has a keen eye for the role of the mind in enabling successful change. 
The discussion covers:
 - How to put the agile back into agile change 
- The software, firmware and hardware
- The misnomer of psychological safety - The natural innate tendency for curiousity, humility, empathy with in a high QoM
- How organisations try to reverse engineer change using the psychological fixes and proscriptions  
- The normalised low QoM associated with organisational change
- The irony of the mind not be valued when it is most important factor, the missing resource source
- The common things that appear to trigger low QoM in a tech change project
Please leave any feedback or comments on the podcast, and if you want to ask a question please do so here https://sayhi.chat/QoM - we'd love to hear from you!!
Curious - want to know more?
Comments
(0)
To leave or reply to comments, please download free Podbean or